"At Livingston James, we are more than the sum of our parts"
Collectively we can offer the strength and depth of service that makes us a leading executive search and leadership advisory business.​
Together, we bring extensive and far-ranging experience across sectors and geographies.
We believe that our consultants' understanding of how business operates at the highest level gives us an edge in the recruitment marketplace. For our clients, we offer an insight into the challenges they face and the goals they aspire to.
In our collective drive for excellence, every individual within our business knows that there is more to learn. From Director or Consultant to Administrator, we believe we have assembled a team with the diligence, initiative, and inspiration to make a lasting impact for clients and candidates alike.
Douglas leads the Public and Not for Profit Practice within Livingston James and specialises in senior executive and non-executive appointments within these sectors. Adopting a values and partnership approach and always starting assignments from first principles, Douglas has been described as "very client centric" and someone who demonstrates the "passion, commitment and determination to do a great job". He will listen and challenge in equal measure, ensuring he delivers a bespoke and impactful solution.
With nearly 25 years' recruitment experience, Douglas is focused on supporting appointments that have a tangible and positive impact on Scotland's society and communities. Since joining Livingston James, he has successfully delivered a large number of high-profile assignments for national government organisations, the health and education sectors, regulatory/governing bodies and the voluntary sectors.
With an MA (Hons) in Economics from Heriot Watt university, Douglas spent his early career with a multinational recruitment firm initially working in Cambridge before moving back to Scotland in 2002. Having specialised in senior finance and more latterly executive appointments across the Public and Not for Profit sector, Douglas joined Livingston James in 2014 to establish and lead their dedicated public and not for profit practice.
Beyond the business world, Douglas is a keen golfer; and for his sins, supports both Stoke City and the Scotland National Football team! With two children, now less involved in swimming and other sporting activities, his spare time is spent walking Benji, the family Border terrier.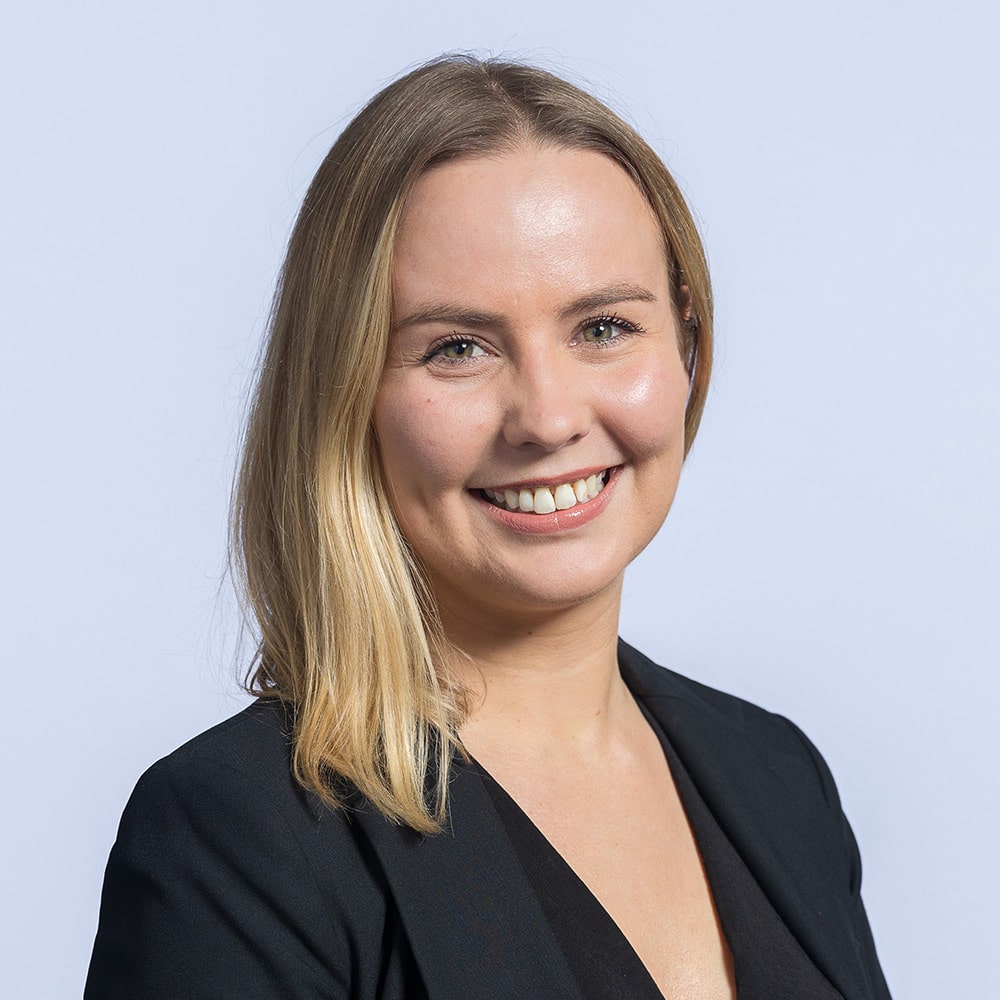 Clean Energy, Private Equity & Professional Services
Sophie is an experienced Director of Livingston James and specialises in Private Equity, Professional Services and Clean Energy. She is an executive search expert offering comprehensive search & selection and leadership consulting services to private equity firms and their portfolio companies, and is also responsible for the growth of the firm's clean energy offering and presence across the UK, having worked with a number of start-up clean energy funds and onshore development ventures.
Sophie is passionate about bringing innovative and impactful solutions to her clients. In addition to search, she offers a steady pipeline of strategic introductions, curated thought leadership, private equity-centric assessment and an evolving deal origination capability. Sophie looks to develop long-term strategic partnerships that build winning leadership teams and create substantial value.
Starting out within the Group's Professional Services offering and establishing the Private Equity proposition, Sophie has experience recruiting at all levels including senior management, C-Suite and NED/Chair. Sophie also created and leads the Group's graduate programme and co-founded market leading D,E&I event "No Diversity, No Deal". These events gather female leaders across the Scottish dealmaking community to shine a light on diversity challenges and they have highlighted the opportunity to galvanize a network of leaders passionate about affecting change through positive action and empowering the next generation of female investors, corporate finance specialists and/or operators/entrepreneurs.
Sophie is a graduate from Robert Gordon University in Aberdeen with a BA (Hons) in Management with Marketing, and attended University of Michigan gaining a distinction in Communications & Event Management and Recovery Management. She also completed a year-long internship with Walt Disney World in Orlando, Florida. Upon graduating, Sophie was a key member of a FTSE 250 listed business in Aberdeen before joining Livingston James Group in 2015.
Originally from Ireland, Sophie is a well-travelled individual, attending 12 schools across the World. She takes an active part in her community and sits on the committee of the Wooden Spoon Charity; a charity which supports disadvantaged children across the UK & Ireland.
Senior Finance & Accounting
Mark leads Livingston James' CFO Services practice and over nineteen years has built an excellent track record of senior and board level appointments in finance. He works with companies across a wide variety of sectors and geographies, ranging from FTSE 100 through to private equity and owner-managed businesses, delivering a bespoke service underpinned by professionalism and unrivalled market knowledge. Mark is also Managing Director of Rutherford Cross, our specialist search and selection practice focused exclusively on qualified finance appointments.
A graduate of the University of Manchester, Mark started his career in the once fledgling Energy Trading market before embarking on a career in recruitment with a leading FTSE 100 listed business. Following his strong performance in the North of England for this organisation, he was relocated to Scotland in 2004 to lead their senior finance business in Glasgow. In 2006, he was headhunted by a boutique professional services recruiter, quickly developing their senior finance business, resulting in his promotion to Associate Director within two years. Mark joined Livingston James in 2011 and led the launch of Rutherford Cross two years later.
Outside of work and family responsibilities, Mark is a keen follower and participant in a range of sports but relies on his yearly personal challenge to maintain some semblance of fitness. In recent years this has involved walking the length of Hadrian's Wall, the 4 Peaks Challenge, the Caledonian Challenge and Coast to Coast Challenge. 
Alistair has 20 years' experience in recruitment, partnering with some of the world's best-known brands to build successful leadership teams. Previously MD of Hudson Scotland, Alistair leverages his extensive personal leadership experience to advise organisations in the Manufacturing and Technology Sectors on how best to set up their leadership teams to thrive in current and future market conditions.
Alistair graduated in Business & IT from Edinburgh Napier University where he still returns to advise on one of the business school's professional steering groups.  Following an analyst role with a global high-tech manufacturing firm, Alistair worked in the recruitment sector for FTSE 250 and Fortune 500 businesses.  Here he built his strong network of contacts before moving into his more operational leadership roles in recent years.  Alistair is passionate about reducing the digital skills and gender gap in Scotland's tech sector.  He's been working with business leaders on the Digital Technology Education Charter to inspire school pupils to choose computing science and also supports the charity dresscode.
Alistair leads on our D, E&I strategy and sees his role as an important one in which he can support organisations to develop authentic diversity initiatives by appointing the best modern leaders.  He is also a trusted advisor to Scottish Development International's inward investment team and has supported many organisations looking to set up their global business services in Scotland. 
Outside of work Alistair enjoys spending time with his two children (apart from home schooling) and playing tennis and golf. Although he does not profess to be the best, he has sometimes had his moments. Coaxed into running by his wife, Alistair is always keen to throw himself into 10k's to raise money or awareness for different charities.
Kirsty Sim
Head of Research
In-house Psychometric Assessor
Kirsty is Head of Research for Livingston James Group. Principally supporting the Executive Search team, Kirsty leads all research activities including market mapping, talent mapping, international search and candidate attraction. Kirsty is also our trained in-house psychometric assessor.
Kirsty works closely with Consultants and Clients to understand exactly what is required and build a robust and targeted plan for how to source and attract high calibre individuals. Over ten years in the recruitment industry, she has worked across a range of sectors and specialisms, primarily at executive level.
Passionate about understanding people, what motivates them and how they can reach their potential most effectively, Kirsty studied MA Psychology at the University of Aberdeen. She has since completed further training in Occupational Ability and Personality testing and is a member of the British Psychological Society.
Outside of work, Kirsty has a passion for food and drink, particularly Scottish produce. She promotes local restaurants and businesses and shares homemade recipes through her food blog, Pancakes and Polaroids. Kirsty is also a fan of the countryside and escapes to the outdoors when she can, trying her hand at some (very) amateur photography.
Claire Feld
Research Associate
Claire is our Research Associate at Livingston James and sources senior executives through research activities such as market mapping, talent mapping and candidate attraction.
Claire graduated from the University of Strathclyde with an MA degree in Philosophy, Politics and Economics. She joined Livingston James, initially in the support team, but was quickly promoted to Research after showing a keen eye for detail and an interest in candidate management.
As the dedicated Researcher, Claire will undertake all relevant research activities, building the potential candidate pool, managing the administration of the assignment and compiling all relevant management information and assignment reports.
Jamie Livingston
Group CEO
Jamie is the Chairman and CEO of the Livingston James Group. Responsible for ensuring the Group's services and strategy evolve in line with its purpose and values, he takes a hands-on approach to client and candidate engagement and is committed to the development of our people and our community partnerships.
Passionate about the impact of our advice on the lives and performance of our clients and candidates Jamie has extensive experience of recruiting at all levels. From manager to plc main board across a broad range of sectors, disciplines and geographies, he brings an enviable track-record of building teams in both existing and new markets.
A graduate of both the University of Glasgow and Toulouse Le Mirail, Jamie spent his early career with a multinational recruitment firm where he was involved in the restructure and development of their Scottish business and led the green-field start up of their business in Ireland. He returned to Scotland and left the organisation to found Livingston James Group in January 2010.
Beyond the business world, a former club captain at West of Scotland Rugby Club Jamie keeps his hand in with the sport as a regional chair of the Wooden Spoon Charity.  He and his wife, Chloe, are active members of their local church and lead community initiatives 'Project Present' and 'Back to School' when not acting as taxi drivers for their fast growing and ever logistically demanding children.
Purpose, People & Innovation
Karen is a fellow of the CIPD. She has over 12 years' experience in the recruitment industry, previously as MD of Hudson, UKI & Middle East operations. She spent 7 years running the Scottish Hudson business & in that capacity has extensive experience, within Higher & Further education.
Prior to her career in recruitment Karen worked in various international organisations in senior HR roles, primarily responsible for talent management, succession planning, organisational development & transformation.
Fiona McLeod
Finance Manager
Office Management & Group Finances
Fiona joined Livingston James in May 2010. Fiona provides support across a broad range of functions both internally and externally, not least operating as Finance Manager.
Prior to joining Livingston James, Fiona spent over 13 years supporting senior executives and consultants in the recruitment industry. Her experience in addition to her finance responsibilities has ranged from office operations management, supporting research led CEO search assignments through to provision of marketing services and events coordination. This breadth of knowledge and Fiona's commitment to delivering excellence make her an invaluable member of the team.
Beyond her day to day work life, Fiona has played an active part in teams focussed on fundraising for multiple charities. She is a key member of the team running the annual Wooden Spoon dinner in Glasgow.
Francesca Christophersen
Executive Assistant to the CEO
Internal Operations & Projects
Cesca is the Executive Assistant to our Chief Executive Jamie. She offers a confidential organisational support service to him, as well as operational and administrative support to the Livingston James Group. Cesca has a people-first approach, a keen eye for detail and is always on hand to support anyone in need.
Coming from a sporting background, Cesca was motivated to join an organisation focused on teamwork and joined Livingston James as a Research Associate in 2018. She gained significant experience sourcing senior executives for high profile assignments, learning the ropes of recruitment from the ground up and developing wider knowledge of market mapping, candidate attraction and assessment strategies and client/candidate relationship management.
Cesca graduated from the University of Edinburgh with a BSc in Applied Sport Science with first class honours, where she specialised in Sports Biomechanics and Physiology. In addition to playing competitive football, basketball and water polo, Cesca was a competitive swimmer for over 10 years competing at National level and for Scotland Universities. She is fluent in Norwegian and has studied Spanish, French and Italian.
Cesca has always been heavily involved in volunteering, from swim teaching at local clubs to working at high profile sporting events. She also took on several committee roles whilst at university including Vice President of EUSWPC, overseeing club development for over 200 members. She was subsequently awarded a university Colours Award for outstanding voluntary service to the Sports Union. After graduating, she became head swim coach of EUSWPC for a year whilst working with us, coaching university students 5 times a week. Since leaving the team and retiring from swimming, she has vowed to never get up before 5am anymore… especially not to exercise.
Fern Robertson
Personal Assistant
Fern is Personal Assistant to Livingston James' Directors: Douglas, Sophie, Ali and Mark. Fern also acts as our Glasgow office manager, providing additional support across the Livingston James Group.
Fern comes from a business support background and joined Livingston James in January 2023. Having completed her apprenticeship in business administration back in 2019, she has gained valuable experience within Local Government. More recently, Fern also completed a PDA in Project Management. Fern is looking forward to starting her career in the fast-paced recruitment industry and particularly loves our Livingston James values.
Outside of work, Fern has a passion for travelling and is keen to visit most cities in Europe before travelling further afield.
Interested in joining our team?
Please take a look at our careers page and get in touch to find out more. We'd love to hear from you.
Andy Rogerson
Cofounder & Non-Executive Director
Andy presents unrivalled experience of the Professional Services and Executive recruitment sectors, built up over 25 years leading private and listed businesses in Scotland, the UK and Europe. He served as the MD of the Melville Craig Group before leading this business through its acquisition, eventually transitioning to become the CEO of Hudson for UK and Ireland and serving on the European leadership team.
He has been involved with Livingston James Group from the beginning when, as one of the founding Directors, he worked alongside the current CEO, shaping business strategy and developing the brands and platforms that have thus far ensured ongoing growth and success. In 2019 he stepped away from his full-time position and now serves as a non-exec Director. Beyond the contribution he makes as a board member Andy supports the personal development of many in the team and regularly provides training interventions, particularly aligned to Executive Recruitment. 
Andy is Chair of the Devonshire House Business Club, an organisation aligned to promoting effective leadership in Scotland whilst supporting the work of "Project Scotland". He is also an independent advisor supporting young entrepreneurs in the media and recruitment sectors.
Away from business interests he has turned a healthy interest in outdoor pursuits into positive actions. Over recent years the completion of numerous endurance events has raised significant sums for several organisations, most notably The Brain Tumour Charity.
Andy continues to maintain an international network of recruitment contacts that provide detailed and informed insights on our sector.
Gillian Hastings
Non-Executive Director
Gillian is a respected expert in board-level financial leadership. Having spent more than 10 years with Ernst & Young, she moved on to build FD experience across a range of sectors and different ownership structures, including early-stage venture capital backed entities through to listed market businesses, and many in between.
She has been providing strategic, corporate finance and financial advice as a non-exec director to a diverse range of portfolio companies for over 10 years.  Gillian brings expertise in helping companies identify and understand their issues, unlocking routes to market, developing and funding strategic plans for long-term growth and exit – with a particular talent for working with SMEs.
Outside the professional world, Gillian enjoys travelling, curling, golf, gardening and yoga.
Craig McDermid
Non-Executive Director
A Chartered Accountant, Craig is an experienced corporate investor with a career in private equity, M&A advisory, banking and family offices. Following a successful exit with Murray Capital in 2015, Craig was keen to build a portfolio of non-executive roles. Passionate about family business and growth orientated companies, he is fortunate and privileged to now work with several such businesses across a range of sectors.
His experience brings Livingston James a unique and extremely valuable perspective on the process of identifying and attracting leadership talent for private equity and family office investors, as well as access to an extensive network of contacts.
Outside of the professional world, Craig has a passion for sailing, is a keen golfer and has developed a love of road cycling during an ongoing midlife crisis!
Craig is also a trustee of Cancer Support Scotland and the Murray Foundation.
'We are here to advise and support people and organisations to realise their potential so that together we can impact lives and communities for the better'
Mark Lewis joined Livingston James Group as a start up in 2010, initially working for the executive search brand Livingston James, then moving on to set up the senior finance recruitment brand, Rutherford Cross as Managing Director in 2013, before joining the board of Livingston James Group in early 2020.
Read More »
Together we achieve more.
Livingston James Group comprises three bespoke sub brands: Livingston James, Rutherford Cross – our specialist finance recruitment practice, and Hamilton Forth – our specialist technology and transformation practice. This wider group structure complements our robust search and assessment process, allowing clients to access the Group's deep-rooted network and expertise.
Contact Our Executive Search Specialists
We'd be delighted to provide further information. Get in touch with our team to find out how we can help you.
Our latest newsletter is live; featuring our latest news, views and featured job opportunities: CFO for Rangers Football Club, a Convener (Chair of the Board) for SCVO, and an international search campaign for Emtelle.
Aberlour Child Care Trust ("Aberlour") currently supports disadvantaged children, young people and families to have a brighter future throughout Scotland. Giving children an equal chance and the best possible start in life is at the heart of everything we do.
Livingston James Group is delighted to be supporting Macmillan Cancer Support with its Longest Day Golf Challenge!
Our latest newsletter is live; featuring our latest news, views and featured job opportunities: CFO for Rangers Football Club, a Convener (Chair of the Board) for SCVO, and an international search campaign for Emtelle.
Aberlour Child Care Trust ("Aberlour") currently supports disadvantaged children, young people and families to have a brighter future throughout Scotland. Giving children an equal chance and the best possible start in life is at the heart of everything we do.
Livingston James Group is delighted to be supporting Macmillan Cancer Support with its Longest Day Golf Challenge!